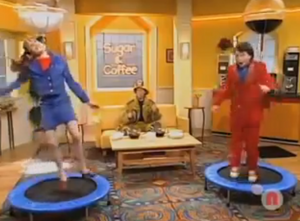 Season 7 episode 5
next: David Arquette/Mandy Moore
Jack, Bryan, Chelsea and Kyle want Tony Hawke to teach them some skateboard moves. Kyle falls and Chelsea takes him off set, saying "You poor baby, Chelsea's gonna make it all better." This caues a jelous Jack to break down crying in Tony Hawke's arms. Later, Kyle Bryan and Lisa launch Shane on a catapolt through Hollywood.
Rate the Pain: Potatoe Masher
Chit Chat: Tony Hawke talks to Stacey about knitting.
Bloopers: While filming Chit Chat, Giovonnie floats away on a bunch of balloons.
Ad blocker interference detected!
Wikia is a free-to-use site that makes money from advertising. We have a modified experience for viewers using ad blockers

Wikia is not accessible if you've made further modifications. Remove the custom ad blocker rule(s) and the page will load as expected.