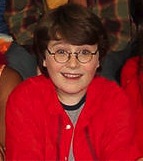 Kyle joined the cast in season 7. Often treated as the loser of the cast, he too lasted until the show's cancellation. Popular characters/sketches, include; Harry Bladder, Buzz of "Sugar & Coffee," among many others.
Characters
Edit
Harry Bladder - Harry Bladder
Buzz - Sugar and Coffee
Elliot - Bridgette's Slumber Party
Jack Osbourne - Story Time With the Osbourne's
Ernie - Tilt a Hurl
Brain Peefest - American Idiot
Gabe - the Unreal World
Father - Randy Quench: Volunteer Fireman
Little Boy - Toy ER
Max - Max and Mr. Flopples
Dr. Laser - the LAMOS
Roughneck Introducer - the Roughnecks
Elroy Dinkman: Nerd Correspondent - Trashin' Fashion
Vance LaFoon - Sneaky Camera with Vance LaFoon
At the time he was a cast memeber of All That, he was also a regular on the sitcom "Malcolm in the Middle", where he played Malcolm's geeky friend Dabney Hooper.
Evan Matthew Cohen, who played Dabney's best friend Lloyd on Malcolm, would visit Kyle on the set of All That.
According to his no longer existent website, Kyle always had a yo-yo on set, and would often perform impressive tricks in between takes. He also had this yo-yo with him at the "Cinderella 2" premiere he attended with Lisa Foiles.