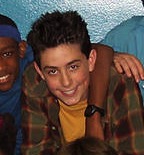 Jack DeSena joined the cast in season seven.
Characters
Edit
Ozzy Osbourne -  Story Time with the Osbournes
Randy Quench - Randy Quench: Volunteer Fireman
Andy - Bridgette's Slumber Party
Jewlery Store Owner - Bucketman
Rate the Pain Host - Rate the Pain
Vlad - the Unreal World
Percy Flavin - Oven Lovin' 
Slimon Bowel - American Idiot
Carson Daly - TR Yell
Brad Dashman - 2-Gether 4-Ever
Papa Zortog - the Zortog's
Clem Roughneck - The Rougenecks
Rowdy Fan - Rowdy Fans
Ad blocker interference detected!
Wikia is a free-to-use site that makes money from advertising. We have a modified experience for viewers using ad blockers

Wikia is not accessible if you've made further modifications. Remove the custom ad blocker rule(s) and the page will load as expected.