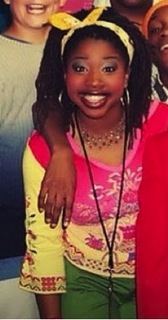 Giovonnie joined the cast in season 7.
Characters
Edit
Gale - Bridgette's Slumber Party
Stacey Chit - Chit Chat
Connect the Zits Girl - Connect the Zits
Mandy Smackson - American Idiot
Jewlery Store Clerk - Bucketman
Wedding Singer - Randy Quench: Volunteer Fireman
Farrah - the Unreal World
Host - Rate the Pain
Doctor Botch - Toy ER
Patient - Songs From the Dentist Chair
Mrs. Nut-Hurst - Sugar & Coffee
Mrs. Fishtail - Driving Test
Ad blocker interference detected!
Wikia is a free-to-use site that makes money from advertising. We have a modified experience for viewers using ad blockers

Wikia is not accessible if you've made further modifications. Remove the custom ad blocker rule(s) and the page will load as expected.