Christy Lorraine Knowings (born 2/25/89) is an American actress, comedienne, musician, model, writer, and dancer who was on All That for 3 seasons. 
Biography
Edit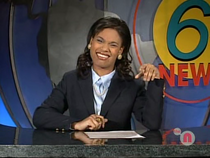 Christy was born in the Bronx, NY. After Katrina Johnson and Alisa Reyes left the show, she was brought in alongside Danny Tamberelli and Leon Frierson. Knowings had experience with not only sketch comedy but Nickelodeon, as she had performed in a Nickelodeon sketch comedy special called And Now This. She and her twin brother Chris were in the special green room, unaware that two casting directors for the show were in the room as well. Christy's brother wanted her to perform her accents and impressions, and the directors were impressed with her to the point of asking her to audition. She did, and she got the part.
Knowings was part of the show until the finale of season six in 2000. She was also a panelist on Figure It Out--coincidentally, she starred in a parody sketch of the show on All That called What Do You Do? She played Winter Wonders, a parody of Summer Sanders. 
She has a recurring role on Sesame Street as Christy, alongside Chris. She also had a small cameo in the green room during the All That 10th Anniversary Reunion Special.
List of portrayed characters
Edit
 Brenda Stone (Channel 6 1/2 News)
Miss Tula/Ernestine Klump (Dullmont Jr High School)
Nurse (Dr. Bynes)
Nancy ("Turbulent Airlines")
Yoko (CJ and the Cloudy Knights)
Prom girl (Channel 6 1/2 Sports)
Lulu (Baby Chat)
Gloria Bankhead (Happy Homestuff w/ Gloria Bankhead)
Hot Toe (Jimmy Bond, Agent 1/7)
Ms. Williams (Dudco Enterprises)
Latasha (The Inconvenience Store)
Jessica (Whateverrr!)
Lieutenant Fondue (USS Spaceship)
Penny Lane (The Adventures of Superdude, seasons 4-5)
Manager (The Spice Boys)
Ms. Williams
Dame in ("Cheeseburger Doyle, Private Eye")
Ad blocker interference detected!
Wikia is a free-to-use site that makes money from advertising. We have a modified experience for viewers using ad blockers

Wikia is not accessible if you've made further modifications. Remove the custom ad blocker rule(s) and the page will load as expected.