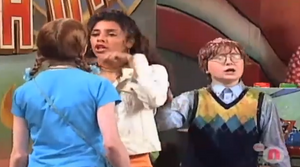 Season 7 episode 13
next: b2k
Christina helps the cast solve their unusual problems
Tilt-a-Hurl: Two girls fight over Ernie. One nice (Christina Vidal) and one abusive (Lisa Foiles). Also Ernie's family comes to visit, but disown him when they are puked on.
Songs From the Dentist Chair
Bloopers: While filming the Tilt-a-Hurl sketch the boom mic picks up Christina by her hair. Then Lisa bites off Christina's finger.
Ad blocker interference detected!
Wikia is a free-to-use site that makes money from advertising. We have a modified experience for viewers using ad blockers

Wikia is not accessible if you've made further modifications. Remove the custom ad blocker rule(s) and the page will load as expected.