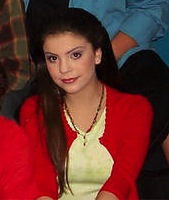 Chelsea Brummet (born 1/28/87) is an American actress. In 2002, she became a cast member on All That.
List of portrayed characters
Edit
Polly Baboon - American Idiot
Bridgett - Bridgette's Slumber Party
Sharon Osburne - Story Time with the Osbournes
Britney - Britney Live From...
Lil' Embryo's mama - T.R. Yell
Abby Rhodes
Tea & Crumpets lady - Sugar & Coffee
Spella - The Unreal World
Jessiquat Zortog - Zortogs
Mega Butt - The LAMOS
Bride - Randy Quench: Volunteer Fireman
Doctor Malady - Toy ER
Two of her characters, Abby Rhodes and Bridgette, have the catchphrase "Okay", but they say it very differently.
Ad blocker interference detected!
Wikia is a free-to-use site that makes money from advertising. We have a modified experience for viewers using ad blockers

Wikia is not accessible if you've made further modifications. Remove the custom ad blocker rule(s) and the page will load as expected.