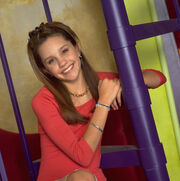 Amanda Bynes (born 4/3/86) is an American actress. In 1996, Bynes became a regular on All That. In 1999, Bynes got her own show on Nickelodeon, The Amanda Show. In 2002, Bynes starred in the WB series What I Like About You.
List of All That characters
Edit
Ask Ashley - "Ask Ashley"
Gina - Whateverrr!
Captain Tantrum - USS Spaceship
The Explaining Girl/Evil Superdude - The Adventures of Superdude
Jiffy Springs - Various Sketches
Lucy Ricardo - I Luv Lucy
Megan Marples - Various Sketches
Squash Girl - Squash-Hicks
Dr. Debbie - Dr. Debbie
Sally - Jimmy Bond Agent 1/7
Ad blocker interference detected!
Wikia is a free-to-use site that makes money from advertising. We have a modified experience for viewers using ad blockers

Wikia is not accessible if you've made further modifications. Remove the custom ad blocker rule(s) and the page will load as expected.